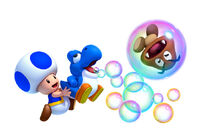 Baby Yoshis are a type of Yoshi and a character/power up in th game.
Abilities
Edit
Blue - This type can shoot bubbles out of their mouths. Once an enemy is trapped in a bubble it gets turned into coins.
Red - These Baby Yoshies can inflate like a balloon and allows the user to float for some time.
Yellow - This type emits light and is needed in dark levels.